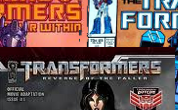 Jim Sorenson has updated his blog,
Disciples of Boltax
, with another entry under The Ark Addendum.  This weeks update, which was actually posted yesterday, was titled The Ark Addendum - More than Meets the Eye which continues Jim's focus on the very first episodes of The Transformers.  The update contains some of the landscapes that, as Jim himselves states, "
really help set the tone for the series to follow, especially season one.  Two broadened the artistic palate, and three went in many fantastic and bizarre directions.
"  Check them out by clicking the link at the beginning of this story