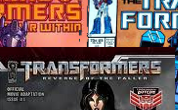 Simon Furman has updated his blog with a post regarding the upcoming IDW Transformers Spotlight on Arcee. Here's a quote

"...And I figured I'd attempt to apply a rationale to the whole issue! So, I expect Arcee to be divisive. Though I hope also, regardless of the whole he-she-it thing going on, people will enjoy it for the rattling good actioner I believe it to be. And boy, does a lot happen this issue. Guest-stars abound… Ultra Magnus, Fortress Maximus (taking his full IDW bow), Banzaitron, the Combaticons (also debutees), Jetfire, the Technobots and more! And it all revolves around a certain character whose name has been uttered more and more frequently in various Spotlights (and even the 'ongoing' by now… I think), and will play a big part in what's to come this year. So, while self-contained, this is without hyperbole a KEY issue. And then there's the breathtaking art of Alex Milne. I can honestly say I've never seen Alex so up for a job, and the results will simply knock your socks off (or "shatter your trousers", whichever is applicable)."
Visit Simon's Blog to read the full posting as well as an image from the issue.