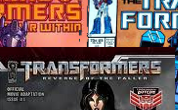 "TRANSFORMERS on JOOST With a New Episode Added Every Week.
Do you remember the original epic battles between OPTIMUS PRIME and MEGATRON? When the AUTOBOTS and the DECEPTICONS crash landed on Earth?

Relive it all over again! Watch the entire first season of TRANSFORMERS Generation 1 on JOOST.

And there are new episodes from Season Two being added every week, make sure to come back to see what's new!

That's right –every episode is exclusively on Joost – and it's FREE. All you need is a high-speed internet connection, and you have 24x7 access to full-screen, TV-quality Transformers. It's all on demand, so you can watch when you want, where you want, as many times as you want.

For "More than meets the eye," download Joost today!"
Source: Transformers.com