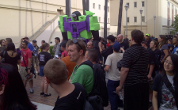 Many updates for germanys transformers convention C.O.N.S.
Our friend Raymond T. of the TF-Confederation has made to us a new teaser trailer to the C.O.N.S. 2011:
C.O.N.S. 2011 - Teaser Trailer from Lucy Cons on Vimeo.
Simon Furman Interview @ C.O.N.S.:
This year we managed to invite a special guest to the C.O.N.S. 2011. Simon Furman, the comicartist of IDW, will do us the honour, to visit the C.O.N.S. 2011, in order to get to know his fans in Germany. We are looking forward to meet him and will do our best, to make his stay in Germany as enjoyable as possible. This way, we hope to give you a chance to get to know the awesome writer of IDW. We think that each of you has some question you'd like to ask him. Because of that we will make a live-interview with him on the 24th of July on the C.O.N.S. where we will try to get as much information as possible. Since we are aware of the fact that not everyone of you has the opportunity to attend the convention, we want to give you the chance to ask your questions. So, ask whatever you want to know about Simon Furman and his work. All questions will be collected and than asked to Simon live on the C.O.N.S.. Naturally the answers will be posted in the forum right after the C.O.N.S.
New Partner of C.O.N.S.:
Today we can introduce you to our new partner. It is an Anime, Manga, SciFi Convention, the TsunaCon from the Netherlands. This year the TsunaCon will be present for the first time on the C.O.N.S. and fancy itself to the German fans. We hope for a good partnership and we are glad about the cooperation. The team of the C.O.N.S. 2011 is glad to be able to welcome the TsunaCon in July.
C.O.N.S. 2011 The Program:
11.00 Opening/Disbursement of the quiz sheets
11.15 Rampage live - Letz go transform
11.30 Welcoming and introduction by the team
12.00 Beginning of the barbecue
12.15 Connect Four tournament
12.30 TF Dark Energy presentation
13.00 First tombola
13.30 Rampage live
14.00 Simon Furman interview
14.30 Signature session
15.30 Second tombola
16.00 End of voting for the contests/Revelation of the quiz
16.30 Announcement of the winners
17.00 Acknowledgements
17.30 Rampage live concert
19.00 The "farewells"
Inside-Outside at the C.O.N.S.:
Sometimes it takes a third try. In this year Kerstin and Michael of Inside-Outside Tattoo and jewellery design have once again registered themselves for the C.O.N.S..They will come with a booth of 5 x 4 metres, and delight fans of Transformers tattoos and exclusive Transformers custom jewellery. It is possible to get a tattoo live at the C.O.N.S. and of course you can also buy the handmade jewellery made out of stainless steel and silver. We are looking forward to the team and hope that this time everything will work out.
Cosplay Contest at the C.O.N.S.:
We have learned of several users, who will attend the C.O.N.S. in a cosplay. We think that this is great and that we have to reward it. If you like, you can now enter our new cosplay contest. There are no rules apart from that your cosplay should be made up of more than just a T-shirt and pants. So, if you would like to win a small but nice price, you can register for the contest here. The more the better.
Custom Contest @ C.O.N.S. The Prize:
Many of our customers have asked us what could be this yearsí first prize of the custom contest. Today we are going to answer this question. Itís a small case from Revell, which contains 12 enamel colors. Paint thinner, brush cleaner and of course brushes. In addition to that there will be a C.O.N.S. exclusive figure of 2010. We hope that the winner will enjoy the prize. Depending on the number of participants, the second and third placed will also get a small prize. It is still possible to register, here!
Paramount supports the C.O.N.S.:
Today it happened!!! Paramount Pictures Germany has sent big boxes to the C.O.N.S. control center, and the content has thrilled us all. Paramount Pictures Germany supports the C.O.N.S. 2011 with two big display stands, which depict Optimus Prime. Apart from that we got two Transformers Dark of the Moon banners. One of which depicts Bumblebee and the other one shows Optimus Prime.
We want to thank Paramount for the support and we are looking forward to present everything at the C.O.N.S. 2011.
Here is a photo of the completed Optimus Prime display stand.
C.O.N.S. 2011 - Newsflash 1
The first news video for the C.O.N.S. 2011. It is only in german but maybe some understand a bit:
C.O.N.S. 2011 - Newsflash 1 from Lucy Cons on Vimeo.
Source: NTF-CONS.DE