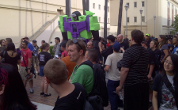 Hasbro have issued the following press release regarding San Diego Comic-Con

HASBRO TO SHOWCASE ITS ICONIC POP-CULTURE BRANDS AT SAN DIEGO COMIC-CON
July 20, 2­011
With some of the most popular and sought after brands in the entertainment industry for movies, television, video games, comics, collectibles and more, Hasbro, Inc. returns to San Diego Comic-Con to deliver special opportunities for fans of its pop-culture juggernaut properties. Led by displays of upcoming action figures, new NERF VORTEX blasters and "larger than life" statues from its powerhouse G.I. JOE, KRE-O, MARVEL, MY LITTLE PONY, STAR WARS and TRANSFORMERS product lines in its booth (#3213), Hasbro will offer fans an inside look into the breadth of many of these brands throughout the weekend with a variety of panels, autograph sessions and access to brand stewards, designers and more.

 "San Diego Comic-Con is an amazing opportunity for us to engage with the most passionate fans of our brands and licensed properties," said John Frascotti, global chief marketing officer, Hasbro, Inc. "Comic-Con allows us to provide our most enthusiastic fans with unique experiences based on the properties and characters they love as well as to introduce them to the newest brands and products from Hasbro. We look forward to this special celebration each year and are excited to deliver compelling panels, outstanding special edition collectibles and the opportunity for interactions with the amazing talent behind our brands that have become touchstones in the lives of many."
Making its first San Diego Comic-Con appearance in 2011 is Hasbro's new KRE-O brand, bringing action and adventure to the construction toy category. At launch and on display in the Hasbro booth, the KRE-O brand offers twelve building sets featuring popular TRANSFORMERS characters. Comic-Con attendees will want to keep an eye out for roaming OPTIMUS PRIME and BUMBLEBEE KREON costume characters, KRE-O statues and special edition OPTIMUS PRIME KREON figures featuring "MATRIX OF LEADERSHIP" deco not available in stores (while supplies last).

Giving fans a peek behind the curtain and an inside look into what's coming in the future for many of its entertainment brands, Hasbro's 2011 lineup of panels and autograph sessions follows:
•  Hasbro TRANSFORMERS Brand Panel: Thursday, July 21 from 2:30 - 3:30 PM in Room 24ABC
•  Hasbro Studios "The Making of 'Transformers Prime'" Panel: Thursday, July 21 from 3:30 - 4:30 PM in Room 24ABC
•  "Evolution of Transformers Animation" presented by Shout Factory and Hasbro Studios: Friday, July 22 from
5:30-6:30 PM in Room 8
Hasbro's presence at the convention will be rounded out by the highly anticipated HasbroToyShop.com special edition San Diego Comic-Con collectibles available at the HasbroToyShop booth (#3329) and in limited quantities, after Comic Con, at www.HasbroToyShop.com. The complete list of 2011 special edition items follow:

TRANSFORMERS: DARK OF THE MOON SPECIAL EDITION ULTIMATE OPTIMUS PRIME FIGURE?(Ages: 5 & up; Approximate Retail Price: $79.99)?
Fans will have their first chance to get their hands on the new TRANSFORMERS MECHTECH ULTIMATE OPTIMUS PRIME action figure at Comic-Con, with a special edition foil-wrapped, slide-out package and customizable sticker sheet. This special edition ULTIMATE OPTIMUS PRIME will be the only way to get the figure displayed in vehicle and trailer mode; the trailer doubles as a weapons arsenal and is an integral part of the figure's converting play pattern. The MECHTECH ULTIMATE OPTIMUS PRIME figure features lights, launching projectiles, electronic battle sounds and phrases and three modes of conversion – vehicle, robot, and robot with "mech suit." The trailer, which serves as a weapons depot and command center, also converts into a "mech suit" that OPTIMUS PRIME shows off when it's time to rumble.
TRANSFORMERS PRIME OPTIMUS PRIME FIRST EDITION FIGURE ?(Ages: 5 & up; Approximate Retail Price: $19.99)?
With the mainline series not available until later in 2011, be among the first to get an action figure based on the style of The Hub's hit animated series, TRANSFORMERS PRIME with this special edition figure. This deluxe class OPTIMUS PRIME figure converts from robot to truck mode and features a premium deco only available in this special edition Comic-Con figure. And, in true TRANSFORMERS fashion, the "Matrix of Leadership" packaging in which the figure is housed 'converts' into a wearable piece!