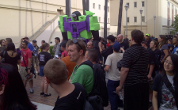 Here is a copy of the latest Auto Assembly Press Release

­
Auto Assembly 2010 Script Reading Now Online!
Following the successful release of our Script Reading video on Youtube a few days ago from our 2009 convention, we are now please to announce that we have released the full unedited video from the Auto Assembly 2010 Script Reading from last year's convention!
The second in our now regular series of convention activities that forms a pivotal role as part of our Saturday evening programme of activities, the Auto Assembly 2010 script was a 30 minute original Beast Wars story written again by Simon Furman and starred our guests of honour Garry Chalk and Scott McNeil. Supporting them were IDW artist and writer Nick Roche and Titan / Panini / Marvel UK artist Simon Williams. The cast was rounded off by fans who auditioned for the remaining parts.
This is the latest video in a series of official footage from Auto Assembly 2010 that we have uploaded to Youtube. Previous videos have included our Cosplay Competition, highlights from our Karaoke (including a performance by Scott McNeil) and inteviews with several guests. All of these can also be found on our channel.
As we have said before, if you are considering attending Auto Assembly 2011, this and the 2009 Script Reading also featured on our channel are great ways to get a teaser for what you can expect from our 2011 script! Again, Simon Furman is at the helm and David Kaye and Gregg Berger are both confirmed to take starring roles. Who else will be performing? You'll have to come along to find out...!
More convention footage will be uploaded shortly including panels from Auto Assembly 2009 and 2010, and Garry Chalk's acoustic concert from Auto Assembly 2010! We also have more massive announcements and news videos coming soon so keep an eye out for our next video shortly including our next guest update...
Tickets for Auto Assembly 2011 are available now from our website. Ticket prices are £50 for adults and £38 for children, students and senior citizens, with under 5s admitted free. One day tickets are available for the Saturday or Sunday (although these will NOT get you into the Friday or Saturday evening programmes) and these cost £30 for adults, £21 for children, students or senior citizens and under 5's as always are free. Family tickets will be available shortly.
The convention is taking place over the weekend of 12th - 14th August 2011 at the Holiday Inn Birmingham City Centre, Birmingham, England. Tickets for Auto Assembly 2012 will go on sale later this year.
For more details on the convention, to see a full list of all the guests and activities taking place over the weekend, or to book your tickets, visit the website at
www.autoassembly.org.uk
We hope to see you all in August!
The Auto Assembly 2011 Team
Web:
www.autoassembly.org.uk
Youtube:
www.youtube.com/autoassembly
Twitter:
www.twitter.com/auto_assembly
Forum:
http://autoassembly.proboards.com
Email:
autoassembly@aol.com
Tel: +44 (0)7860 948296
Auto Assembly 2011 is sponsored by
www.transformertoys.co.uk
www.transformersanimated.com
Science Fiction Collectables -
www.sf-collectables.co.uk
Toyz And Gamez -
www.toyzandgamez.co.uk
Big Bad Toy Store -
www.bbts.com
3 Darths Comics -
www.3darths.co.uk
Hobby Link Japan -
www.hlj.com
Robot Kingdom -
www.robotkingdom.com
Xyber Toys -
www.xybertoys.com
Moonbase 2 Podcast -
http://moonbase2.libsyn.com
­