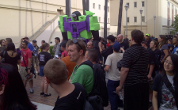 Auto Assembly 2010 - The Final Stretch...!
Auto Assembly 2010 is just DAYS away... but even THIS close, we still haven't finished with our announcements and updates on what is once again Europe's biggest Transformers convention...!
Final Bookings Call
If you haven't pre-registered for the convention, you now have just over 24 hours to do so to guarantee your place at Auto Assembly 2010! Pre-registrations close at 12:00 noon GMT on Wednesday 11th August 2010 and after that time, the only way you will be able to get a ticket for the convention is as an on-the-door attendee and these places will be strictly limited. We will not be able to send passes out in advance for those of you who book now, but they will be available for collection on the day and full details of how to do this will be sent with your booking confirmation email.
Tickets are available for the full weekend and we also have limited numbers of single day passes available for the Saturday and Sunday.
Prize Draws
We are running FOUR free prize draws this year for everyone who has pre-registered for the convention! As long as you have booked in advance for the convention you will be entered into ALL of these to be in with a chance of winning a prize in one of these draws:-
30 Challenge At Cybertron deluxe toy sets
20 random Transformers voice actor signed photos
10 Auto Assembly 2010 10th Anniversary keyrings
3 Auto Assembly 2011 Weekend Passes
So as long as you have booked your ticket by noon on Wednesday, you will have sixty chances to win a great prize!
Charity Fundraising
We are running not one but TWO charity auctions at Auto Assembly 2010 this year. We have had so many items donated that they simply wouldn't fit into a single session so we are splitting them into two. Saturday's session will be hosted by Scott McNeil and Sunday's guest auctioneer will be Garry Chalk. The full auction list will be going online in the next 24 hours on the Auto Assembly website and remember, if you have the Non-Attendee Pack, you can bid on any of these! Items include signed photos, original comic art and more besides.
We will also have a charity raffle running all weekend with a great selection of toys and merchandise up for grabs and plenty of signed photos as well!
All the money raised will go to the convention's nominated charities this year.
Auto Assembly 2011
Mentioning Auto Assembly 2011, we will be opening bookings for next year's convention on Friday. The date has been set as 12th - 14th August 2011 and ticket prices will be £50 for adults. However, until 30th September 2010 we are offering ALL Auto Assembly 2010 a special discount ticket rate £45 for the weekend - freezing ticket prices again from this year!
We already have two voice actors confirmed and we are hoping to make some big announcements very soon, so if you want to get your tickets at a great price, book them at Auto Assembly 2010!
* * *
Full weekend tickets for Auto Assembly 2010 are £45 for adults and £35 for children, students and senior citizens, with under 5s admitted free. Family tickets (2 adults and 2 children) are available for £145. Single day passes for either day are £25 for adults, £18 for children, students or senior citizens and again under 5s are free. A family ticket for one day attendees is available for £80 for 2 adults and 2 children. You need to hurry though as tickets are selling fast!!
Spanning the weekend of Friday 13th - Sunday 15th August 2010 at the The Holiday Inn Birmingham City Centre, Birmingham, England, Auto Assembly 2010 is playing host to a staggering 14 guests including three guests of honour (Garry Chalk, Scott McNeil and Derrick J Wyatt), and will feature toy and art displays, dealers, comic guests, free autograph sessions, a video games area, free workshops run by many of our guests, dedicated childrens programming, video screenings and more! There will also be Friday and Saturday evening programmes, exclusive for weekend attendees and the Saturday evening will play host to a massive musical party, costume competition, our voice actors will take to the stage to perform a BRAND NEW script written by Simon Furman and the chance to win one of THIRTY sets of the Challenge At Cybertron sets donated by Hasbro... and we still have LOADS more to announce!
For more details on the convention, to see a full list of all the guests and activities taking place over the weekend, or to book your tickets, visit the website at
www.autoassembly.org.uk