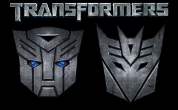 ≠Chud.com have posted what they claim is details on the opening scene for Transformers 3.† This report should be taken with a pinch of salt, but you can read it be highlighting the space below.
There's a disturbance on the Moon. A robot shaped disturbance. Scientists on Earth see this and the information gets passed up the chain of command. In the White House men in black suits are breathlessly running through the halls, and they burst into the Oval Office. The president is behind the desk, back turned to the door, looking out the window. One of the men tells the president, 'Sir, something's happened on the Moon!' The president turns around.≠

It's John F. Kennedy.