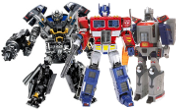 Thanks to UltraPrime for posting the complete breakdown of Transformers figures from the new Argos Spring / Summer 2008 Catalogue which is out tomorrow here within the UK
EDIT: And thanks to Oddsey for proving a scan of the two pages

1: Fast action battlers. Quick changing Transformers with spring-loaded battle features. Characters may vary. £9.99. 387/4350
2: Movie deluxe figures. Collect your favourite Transformers figures and choose your side. Some figures include firing projectiles. Characters may vary. £9.99. 370/5199
3. Ultimate Bumblebee. Fully transforming 2008 Camaro changes to interactive Bumblebee, robot features unique lights and sounds specific to vehicle or robot mode play. Additional features include animatronics for realistic robot play, auto firing weapon, and other awesome lights and sound play. £79.97. 081/7303. Extra
4. Movie screen battles Everything you need to recreate your favourite Transformers movie scene! Includes Transformers figures, movie character and movie backdrop. Characters may vary. £19.99. 387/4381
5. Movie Voyager figures. Larger scale figures that include battle features. One supplied, characters may vary. £19.99. 387/1322.
6. Movie Leader Optimus Prime. This awesome Optimus Prime figure features advanced automorph technology for an enhanced vehicle to robot conversion. Flip down his ion blaster to fire his projectile or press the button in vechile mode for electronic horn sounds and lights. Bring the action to life! £39.97. 387/2929
7. Movie Leader Megatron Movie Leader Megatron comes with lights and sounds to bring the action to life! Also has advanced automorph technology that moves multiple pieces when one piece is moved. £39.97. 081/6823. Extra
8. Movie Allspark Blasters. NEW Electronic Allspark Arm Blasters. Features lights and sounds to bring the action to life. Transform these arm shields into blasters in one easy step. One supplied, stlyes may vary. £19.99. 387/4398
9. Movie Tech Roleplay Transformers ELectronic Combat Hardware-Tech! Everday items that quickly transform into hidden weapons. Each item features lights and sounds. One supplied, styles mary vary. £14.99. 387/3423
10. Transformers dress up. (it has one of those weird little crosslike crucifix symbols next to it...? Transformers child's dress-up costume. £14.99. 081/5587. Extra
11. Bumblebee dress up costume (another of those symbols!) All in one outfit with leather effect and metallic trims and face mask. £14.99. 081/6926. Extra
12. Movie Legends 4 pack. A great value four pack with an easy change from vehicle to robot mode and back again. Characters may vary. £9.99. 370/5034

The following are exclusives:
13.Handheld game. Allows kids to recreate the themes and battles from the move. Requires 3 x AAA batteries (order 1 of 980/2766 at £2.99 for 4). £14.99. 372/5382
14. Alternator Mustang The iconic Mustang is brought up-to-date as Wheeljack. A 1-24 scale car with hidden weapon. Previous catalogue price £19.79. New Price - £14.79. 369/2006
15. Optimus Voyager plus Bumblebee deluxe twin pack. A great value twin pack features two key characters, Optimus and Bumblebee. Figures feature firing projectiles. Optimus. £24.99. 370/6002
16. Optimus Cyberstomp with 2 bonus heroes Optimus Prime Cyberstomping Robot features cool rugged styling, projectile fists, lights and sounds. Comes with 2 bonus Robot Heroes. £24.99. 370/5261
17. Movie Leader Nightwatch Optimus Prime This exlcusive figure comes with lights and sounds and advanced automorph technology that moves multiple pieces when 1 piece is moved. Requires 2 x AA batteries (included) £39.99. 387/2651.