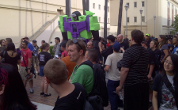 Savcon will be holding a one day dealer room at :
Hilton Garden Inn Savannah/Midtown.
5711 Abercorn Street
Savannah, Georgia 31405
The dealer room will have action figures (including an almost complete G1 Transformers collection for sale) and all other loose ,boxed & carded 80's nostalgia toy lines by local dealers Bottrader and Savcon themselves.
Also at our one day dealer room will be locally owned businesses such as comic book shop "Galactic Comics & Games", Floyd Lewis from "DartGirl Comics" as well as T-shirt and Novelty items from "Brand You Design" (who was at Savcon in 2012) and Artist Christina Colon just to name a few!
The Savcon one day dealer room will be held on Saturday January 11th, 2014 from 10am-5pm.
General Admission for this event is only $5 at the door, no preregister will be necessary for this event.
Stay up to date with all things Savcon at :
www.Savcon.net
Facebook.com/Savcon
Twitter.com/SavCon1