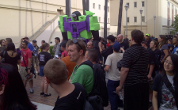 The TF Expo team have issued the following release announcing the location, dates and first guest for their 2014 show
FOR IMMEDIATE RELEASE
NOVEMBER 8, 2013

Wichita, Kansas - TFEXPO ANNOUNCES DATES FOR 2014 SHOW AND FIRST GUEST NEIL ROSS

TFExpo is proud to announce our fourth Transformers convention in Wichita, Kansas coming next summer! TFExpo 2014 will be held at the Holiday Inn at Kellogg and Rock Road August 1st-3rd. That's right, in celebration of thirty years of our favorite transforming robots, TFExpo 2014 will be a full weekend show!

To help us celebrate, we're bringing in fan favorite voice actor Neil Ross as our first guest! Fans of Transformers Generation 1 (and many other 80's cartoons) will remember Neil's many distinctive voices. Neil performed the roles of Springer, Slag, Bonecrusher, and Hook in Transformers, as well as Dusty and Shipwreck in the original G.I.Joe cartoon. And he voiced both Keith and Pidge in Voltron! But that's only scratching the surface of Neil's long and varied career. For a complete list of credits, head to IMDb - Movies, TV and Celebrities.

There will be many more exciting announcements in the months ahead, so stay tuned! Our website will be renovated soon for TFExpo 2014, and then we'll open pre-registration for the show. In the meantime, like TFExpo on Facebook and follow us on Twitter for all the latest updates.

We'll see you at TFExpo 2014!