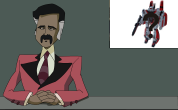 We have found some new Transformers related trademarks filed with the USPTO by Hasbro Inc. The trademarks are:
You can view all of the details of these and other trademarks within our exclusive Trademark Application area of the website which features trademark applications from 1984 through until the present day.
The trademark is within the category which mainly covers computer games though it also covers animated cartoon series for DVD or VCD, which means this will most likely relate to a computer game release.
The exact category is:
"Interactive entertainment software, namely, computer game software, computer game programs, computer game cartridges, computer game discs; interactive multimedia computer game programs; downloadable game software for use in connection with computers, communication devices and mobile telephones; pre-recorded laser and video disc featuring an animated cartoon series"