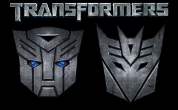 With just 3 weeks for Transformers: Age Of Extinction principle photography left, lead actor Mark Wahlberg has been interviewed by MTV where he discusses his Children's appearance in the film as well as making a brief mention to the Dinobots.
"My kids just did a cameo, just scared people in the street looking up, but they did a great job. I was so nervous because Michael doesn't have time for bad performances," he said. "You have to understand; you're shooting a $300 million movie. You've got a lot going on. He's got five, six takes. If you ain't got it, you're done. I didn't want to see my kids get clipped. They were excited about, but they started to get mad at me because I'm trying to over-direct them. It went great."


Regarding the Dinobots, when they were bought up his response was the following:
"You can't say that, dude. Did you leak it? Did you leak it? You leaked it," he said. "Somebody leaked it, dude. Somebody was on the set leaked it, and it is not OK. It's not cool."


You can watch the video of the interview at MTV.