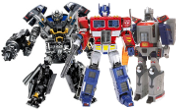 TakaraTomy have confirmed recent rumour of who leads their Fans Choice Masterpiece poll by posting the current top three standings onto their website. Recently it was rumoured that Star Saber was beating God Ginrai (Powermaster Optimus Prime) only that is not exactly true as the current standings are:
1 スターセイバー (Star Saber)
2 コンボイ(超ロボット生命体 トランスフォーマー マイクロン伝説) (Convoy - Micron Legends (Armada))
3 ダイアトラス (Dai Atlas)
The popularity of the 2nd choice is probably going to be the most suprising around with Western fans, however the start of the "Unicron Trilogy" is the series that a lot of people grew up with.
The poll continues ...