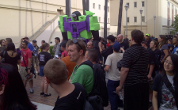 ACToys user laomaocsh has shared some photographs from the first day of the Transformers Expo 2013 which is currently taking place at the China Millennium Monument Museum of Digital Arts in Beijing China. The Expo consist of what is probably the world largest single display of Transformers toys ever as well as dioramas and full and partial size set recreations.
The displays also include some of the prize campaign figures known as Lucky Draws including a Black Galaxy Convoy of unknown origins.
You can view a mirror of the images after the jump.