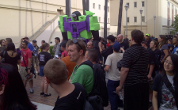 TakaraTomy's Official Transformers Twitter account, @TF_pr have been tweeting out images from the set-up for the Winter Wonderfest that is taking place in Tokyo. It's quite appropriate that Tokyo has just been hit by their worst winter storm in 20 years, so expect to see lots of snowy images from outside of the event.
The first tweet shows the Transformers Lost Age First Edition Optimus Prime who is, of course, TakaraTomy's version of the recently release Age of Extinction First Edition Prime figure.
新作映画「トランスフォーマー/ロストエイジ」で活躍予定のオプティマスを日本最速販売☆ 旭川冬まつりの会場では、オプティマスプライム プレミアエディションが一般発売にさきがけてゲット可能です(・ω・)ノ #TT_TF pic.twitter.com/mtLObaiPUc

— トランスフォーマー情報局 (@TF_pr) February 7, 2014
The second tweet gives an idea of the conditions outside
旭川冬まつり会場内のトランスフォーマーミュージアム!プライム版司令官が目印です☆ ちなみに、冬まつり会場はマイナス20度近くになる時もある極寒の会場!司令官はこの寒さに耐えられるでしょうか…(;゚д゚) #TT_TF pic.twitter.com/K3vT5U0fXG

— トランスフォーマー情報局 (@TF_pr) February 8, 2014
The third tweet sent by @TF_pr includes a photograph of the "Transformers Museum" that is being shown at the event including some items they describe as rare pieces.
冬まつり会場内のトランスフォーマーミュージアム、中はとっても暖かいです(*´∀`*) 展示されているのは歴代司令官やGo!トイの他、超レアなFJトランスフォーマーや貴重な開発資料など☆TFくじもやってます! #TT_TF pic.twitter.com/84iYy43cuf

— トランスフォーマー情報局 (@TF_pr) February 8, 2014