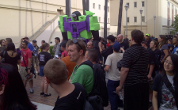 Fun Publications have updated the BotCon website with not only the vehicle mode of Obsidian but also the annoucement of two guests, James Horan (Transformers: Prime WHEELJACK) and David Sobolov (Transformers: Prime SHOCKWAVE and Transformers: Beast Wars DEPTHCHARGE), as well as the official BotCon Brouchure.
This is the official story for the show
Many know of the BEAST WARS, the fight which found Optimus Primal and his crew of Maximals battle against Megatron and his league of Predacons, with the fate of time itself hanging in the balance! Centuries before, though, there was another war whose story is just now being told. A war that threatened the very existence of all Cybertronians, Autobot and Decepticon. This Summer, be warned friends... For the MACHINE WARS are coming!!!


With Optimus Prime and Galvatron off-line, two legendary Generals, OBSIDIAN and STRIKA, will be tasked with saving Cybertron from the invading clone army led by MEGAPLEX and his fleet of Skywarp clones. Along with noble troops such as the maintenance expert HOIST, the Autobots will need every soldier they can find if they are to save Cybertron and win the MACHINE WARS!

This amazing five-figure Transformers MACHINE WARS:TERMINATION box set features: General OBSIDIAN, General STRIKA, Clone Army Commander MEGAPLEX, Clone Warrior SKYWARP and Autobot maintenance expert HOIST. Originally a Kay-Bee exclusive line from 1997, this 2013 BotCon box set brings fans and collectors a long-awaited and AMAZING second series of Machine Wars toys.
Probably the most intersting fact is that for the first time the Customising Figure will be available to purchase from the show, limited to 1 per registrant, assembled but unpainted, for $75.00