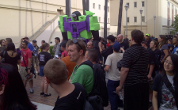 TFCon, the worlds largest fan run Transformers convention, based in Canada, have annouced that not only will the event in Toronto happen in July but they will be crossing the board to the USA to have their first US convention in August located in Chicago.
Save the dates! TFcon – The world's largest fan-run Transformers convention is travelling to America the weekend of October 24th to 26th, 2014. TFcon USA will take place at the Hyatt Regency O'Hare in Chicago to celebrate the 30th Anniversary of the Transformers. Discounted hotel block information will be available shortly. Dealer bookings and registration information will also be available in the near future. We hope you can join us for this historic event.
This is a very interesting development, not only is it a potential challenger to BotCon's US domination of the Transformers calendar but what will the knock-on effect be for the Canadian event, which often has Hasbro Canada's involvement. Will Big Brother Hasbro USA clamp down on this un-licensed show?