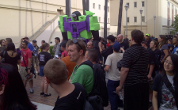 BotCon has shared with us the following about the guest announcement:

Joining us at BotCon 2014 is the writer behind what has quickly become one of the most celebrated ongoing Transformers comic series of all-time, IDW's Transformers MTMTE. With that, we are thrilled to announce that British writer JAMES ROBERTS will be our guest this year in Pasadena. He will be on hand all weekend for autographs, panels and hanging with fans from around the world! You won't want to miss this rare opporutunity to meet James and to discuss his amazing work which has brought a new level of excitement to Transformers comic fiction!

Click the Guests menu link to view his bio and keep checking back as there is so much more news, toy reveals and show information to be announced!