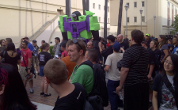 In a few months it's that time again. The 4th C.O.N.S. opens the doors. On the 22nd of July 2012 we will transform Germany with even more power. This year we have space for more dealers and even more fans like ever bevor. We will care for the entertainment with a really great program. This years special guests are:
Simon Furman - Comic Author
Andrew Wildman - Comic Artist
Neil Kaplan - The voice of Transformers R.I.D. Optimus Prime and more
The rockband Rampage will once more do the musical entertainment. The pre-sale for the tickets has already started and everyone can get a ticket now for 8 Euro. Those of you who want to attend as a dealer has still the possibility to do so. But here is the space already limited.
Tickets available: here
Dealers can book their stand: here
The exact address is:
Haus Seerose
Steeger Straße 38
41334 Nettetal
GERMANY
Here are the official flyer and the first teaser:
Source: NTF-CONS.DE