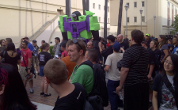 The Official Transformers Collectors Club, from Fun Publications, has posted on Facebook that it's subscription service will start very soon
FB User: Does this mean the subscription service is starting soon?

Transformers Collectors' Club (Official): I would keep an eye on the Club website in the next day or two.
They have already posted up images of Breakdown, and in-hand images of Circuit and Scourge have also appeared.