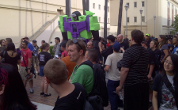 Roll Out Roll Call 2012 update: author of the Rahc Guide, James Kavanaugh Jr, will be attending for his first ever show in the UK. The R.A.H.C Guide is the best reference book covering all GI-Joe releases from 1997-2007. Signed copies are available for reservation though All The Cool Stuff which is strongly urged as a limited number may only be available over the weekend: http://www.allthecoolstuff.co.uk/ROLL-OUT-ROLL-CALL-Transformers--GI-Joe-2012-UK-Convention/Special-Guests__c-p-0-0-182-183.aspx
James "KuuKuuSon" Kavanaugh Jr. is the author of the R.A.H.C. Guide, printer of the Declassified newsletter and a contributor to the G.I. Joe Collectors Club and the Declassified Booth.
While KuuKuuSon is a member of many online G.I. Joe forums, he is more known for his "in person" approach to the community, co-founding two Ohio area collectors clubs and a regular attendee at the International Convention. A collector of G.I. Joe: A Real American Hero action figures since their debut in 1982, KuuKuuSons paused in 1990 to pursue other avenues only to be drawn back in by his late discovery of the then cancelled Marvel Comic series in 1996; a move which inevitably led to his "no turning back" full-on collecting point in 2002.
KuuKuuSon utilized his graphic design skills produce a supplemental fullback card for the Collectors Club renewal figures that are given away free at conventions as well as design the official 2007 exclusive Sigma Six Red Ninja file card. It has also been stated that he put G.I. Joe costuming on the map. KuuKuuSon also collects Transformers Comics, Starscreams, World of Springfield and Masters of the Universe.
James is traveling from Dayton, OH U.S.A. to promote his new book R.A.H.C. A Guide to Second Generation O-Ring G.I. Joe Action Figures.