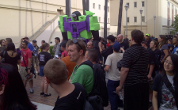 Seibertron.com have posted a interview they have held with Botcon Organiser Pete Sinclair regarding the choice for next years convention to have a Machine Wars Theme.
What was the inspiration for a Machine Wars theme?
Pete Sinclair wrote:The inspiration here is a basically a "Machine Wars: Series 2." The 2013 BotCon offerings will work both as a stand alone AND as a continuation of the Machine Wars line. Once people read the fiction fans will see each toy from both series 1 and series 2 work as their own individual character.

Also, even if you did not grow up collecting Machine Wars, this set is going to be very appealing for many reasons and we anticipate that a wide range of collectors' will want to add these toys to their collections. They look really sharp!
You can read the interview in full here.