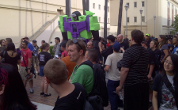 It's less than 2 and 1/2 hours until Roll Out Roll Call gets underway in Southampton in Hampshire.
There have been a few snags on setup day, and prior to the event, but everyone was in good spirits yesterday during setup. There are around 12 dealers in attendence selling Action Force, GI Joe, Transformers, Masters of the Universe, 3rd Party goods, Thundercats, Tick and various other toylines.
Several of the domestic and international guests have already been spotted and are raring to go.
The event lasts Saturday and Sunday, starts at 10:00 today and tickets are available on the door for day passes.
Mastermind Creations will be showing off what the next 12 months will see with some exclusive reveals, the first time a UK show has a big reveal for Transformers (all be it a Third Party Company).
We'll be bringing you coverage live from the event, so stay tuned