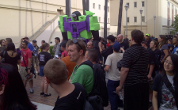 Dealers who will be trading at Botcon have received an email stating that Hasbro and Fun Publications reserve the right to confiscate any and all unlicensed materials. You'll find a copy of the announcement below.
"Promoter and its designees, including Hasbro, Inc., each reserves the right to ban or deny display of any item for any reason. Promoter and its designees, including Hasbro, Inc., each reserves the right to confiscate any items that violates these rules and regulations. Exhibitor agrees to permit such confiscation without incident and agrees that all confiscated items shall become the property of Promoter or its designee and may be turned over to the appropriate authorities. Exhibitor herby [sic] waives and all claims against the Promotor [sic] or Hasbro, Inc. with respect to any removal of person or confiscation of items."
Credit to FullMetalHero for the news.
Update:
Pete has posted a response on behalf of Botcon over on TFW2005.com
I am afraid that details will not be provided. There are SO many 3rd party items, no one is going to provide a list of what is acceptable "unlicensed" toys.

If it is unlicensed, assume it is unacceptable. Just about every 3rd party piece somehow draws on Hasbro IP, so, if you think it may in any way infringe on Hasbro's IP odds are they DO consider it an infringement.

The language they provided for our contract is the warning. Just don't bring the stuff to the show.

BotCon has had amazing Exhibitor Halls for almost 20 years, MANY of those LONG before all of these IP infringing items hit the market. I am sure it will still be an amazing Hall this year and for many years to come!