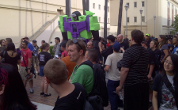 Auto Assembly 2013 Full Programme Announced
For those of you keeping up-to-date with everything going on here at Auto Assembly HQ, you will know that we have already released details of what is taking place on the Friday night at Auto Assembly 2013 with our special Night Of The Bumblebee for those attendees are joining us for the weekend. However, after months of work, we are now able to bring you the full schedule for the weekend for the convention!
This is now available to download from the Auto Assembly website at
http://www.autoassembly.org.uk/AutoAssembly2013Programme.pdf
and as you will see, we have a packed weekend on offer split over four function rooms at the Hilton Birmingham Metropole Hotel with things kicking off on Friday 9th August 2013 and running on right until Sunday 11th August 2013. We have a wide range of different panels and workshops on each day so to experience everything that Auto Assembly 2013 has to offer you really will want a weekend pass for the event. As we do every year at the convention, the Friday and Saturday evenings are reserved exclusively for weekend ticket holders. Some of this year's highlights include:
* An exclusive reading from Bumblebee And Me by Dan Gilvezan (Friday Night)
* An IDW Panel featuring Andrew Griffith, Alex Milne James Roberts and Nick Roche (Saturday)
* A Regeneration One Panel featuring John-Paul Bove, Simon Furman and Andrew Wildman (Saturday)
* The 2013 Script Reading featuring Steve Blum, Dan Gilvezan and Neil Kaplan (Saturday Night)
* Q&A Panels with our voice actors (Neil Kaplan on Saturday, Dan Gilvezan and Steve Blum on Sunday)
* Q&A Panel featuring Jim Sorenson (Sunday)
* Youtube, Kitbash, Art and Colourist Workshops (various, all weekend)
For those of you who haven't booked your tickets yet, or who have never attended Auto Assembly before, everything listed in the programme is included in the ticket price! Once you have paid for your tickets, all you will need to pay for after that is your travel, accommodation, food and drink and for anything that you buy from our dealers. We don't charge for workshops and our guests do not charge for autographs. Our artists will sell original artwork, prints and sketches and some of our voice actors may bring items with them for sale, but none of them will charge to sign any items that you bring with you to the event.
You can see everything by downloading the Auto Assembly 2013 Programme and if you have already booked a single day pass and now want to upgrade for a full weekend ticket to experience everything that Auto Assembly 2013 has to offer, email us at
contact@autoassembly.org.uk
to take advantage of our great upgrade offer!
With the convention taking place in less than a month's time, there is no better time to register to be a part of this year's event. We are also pleased to announce that we have now EXTENDED the deadline for pre-booking tickets. Many people contacted us about the original 30th July deadline telling us that they didn't get paid until the beginning or end of the month so this made things difficult for them to book, especially as they were unsure if they could attend until then. As a result we have now extended pre-bookings until 1st August 2013.
However, if this payment deadline is still likely to be a problem for you but you still want to pre-register, please contact us as we may be able to assist you rather than leaving you in a position of having to but on-the-door tickets.
Auto Assembly 2013 is Europe's largest Transformers convention and is taking place over the weekend of 9th - 11th August 2013 at the Hilton Birmingham Metropole Hotel. To book your tickets or find out more including details of all the dealers attending, all of our guests and a full schedule for the weekend, visit the website at
www.autoassembly.org.uk
Hope to see you all in August!
The Auto Assembly Team
Auto Assembly is sponsored by