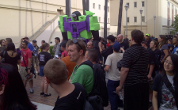 We are getting closer to Roll Out Roll Call 2013, The UK Transformers, G.I. Joe & Action Force Event and tickets will be going on sale very soon from All The Cool Stuff website just as soon as Dave Tree is back from Cardiff.
There has been reasons for the delays in putting tickets up for sale for the event one of which was to make sure that the guest line-up was set in stone, but having seen the names of the guests we are looking forward to this event even more.
For everyone wondering about tickets prices here are the details:
£15.00 day ticket
£28.00 weekend
If you want to guarantee yourself a Masters Of The Universe Classic Strobo figure, add £35.00 to the ticket order.
The show is primarily a Transformers / G.I.Joe / Action Force event but this year a sub-show dedicated to Masters of the Universe is also taking place.