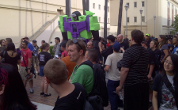 Beast Wars fans may want to make plans to travel to Canada later this year as TFCon have announed that Venus Terzo, voice of Blackarachnia, will be in attendance
TFcon is very pleased to welcome voice actor Venus Terzo the voice of Blackarachnia in Beast Wars and Beast Machines to TFcon 2013. Ms. Terzo will be taking part in Q&A panels and autograph sessions with the attendees of the world's largest fan-run Transformers convention.

TFcon, the world's largest fan-run Transformers convention will take place July 26th to 28th, 2013 in Toronto, Ontario at the Delta Meadowvale Resort and Conference Centre. You can pre-register online for TFcon 2013 via this link for the exclusives VAN GUARDIAN and ROSWELL.

TFcon 2013 features Canada's largest dealer room for Transformers merchandise, question and answer panels and autograph sessions with many special guests including Transformers voice actors JACK ANGEL the voice of Astrotrain, Breakdown, Cyclonus, Omega Supreme, Ramjet, Smokescreen and Ultra Magnus in the Generation 1 cartoon plus DICK GAUTIER the voice of Rodimus Prime, along with Transformers comic book artist Livio Ramondelli with more to be announced. The TFcon 2013 hotel block is now available.