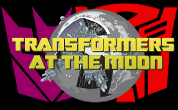 Two weeks ago Moonbug took a week off work, during which he took over 3,000 photographs of Transformers toys from our Transformers collection, working his way along one half of a shelf and 1/3 of the Transformers toys on top of our main display cupboard (which we call Cyber City).
Today we can unveil the last of these 3,000 images, in 8 new and 10 updated Transformers toy galleries. There are 738 new images for you to look at, and cover toys from a variety of Transformers lines and decades.
Here are the updates:-
The Transformers galleries updated from preview-galleries (stock-images) or mini-galleries (less than 5 pictures) are:-
In addition to these 18 updates we've also corrected the images in the following galleries.