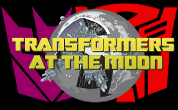 To make up for the last few days of missing Beast Wars II Cartoon Image Galleries, we've now posted a quock catch up of 4 galleries, covering episodes 10 to 13, featuring over 1200 new Transformers Beast Wars II images
Beast Wars II Episode 10 - Autorollers Roll Out!
The Destrons continue in their attempts to recreuit the Insectons as warriors to their cause, this time it's the turn of the Autorollers. Unknown to the Cybertrons, the Autorollers and Insectrons have history, when Autocrusher and his crew previously saved BigMoss. Using this as leverage, the Autorollers and the Insectrons team up.
Beast Wars II Episode 11 - Danger! Scissor Boy
Following on nicely from the previous episode is more Autoroller and Insectron goodness, though this episode also focuses on the friendship between Tasmania Kid and Scissor Boy. Once again though very little is seen of Autolauncher
Beast Wars II Episode 12 - Galvatron Rampages
Episode 12 continues with the Autoroller theme, this time actually including the fourth member, Autolauncher. In this episode teh Autorollers are building a refining station when Scuba stumbeles upon them. At fisrt the Autorolllers go to attack Scuba, but after the interferance of Starscream and BB, along with a rampage from Galvatron, the Autorollers team up with the Cybertrons to stop the rampaging Galvatron
Beast Wars II Episode 13 - Predacon General Offensive
A nice way to round off today's Beast Wars II catch up is with the first of the "Catch-up" episodes. Moon and Artimus discuss the recent events on Gaia, with the Insectrons turning up and the suprising history between them and the Autorollers.