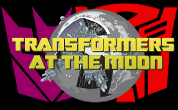 12 years ago today, 29th October 1999, Transformers At The Moon was first launched. The website, at that time, operated from the domain www.transformers.themoon.co.uk which was based from the email address transformers@themoon. It was by registering this email account that we decided to settle on the name for the site. Whilst both the email address and the domain have since moved to domains owned by us and to better reflect the focus of the website, Transformers toys, the site has continued to be maintained by the two brothers who first launched it.
We had hoped to launch the 9th version of the website to coincide with the anniversary of the site, however due to my computer at home failing, that project is still outstanding.
We will, however, still run the 12th anniversary celebrations, in terms of new special content and announcements, just as soon as wee are able to. But in the mean time we would like to express our thanks to all of you who have visited the website over the last 12 years, joined the message board, Facebook group or follow us on Twitter. So on behalf of thhe pair of us, THANK YOU.
Steve and Dave AKA Transformers At The Moon