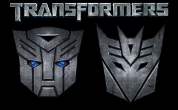 ≠Hasbro have posted images of Transformers Dark of the Moon Cyberverse Legion Class Leadfoot, Commander Class Blackout, Legion Class Crowbar and Bolt Bumblebee.
The profile state
CROWBAR infiltrates and observes AUTOBOT tactical movements with unmatched stealth and intellect. He has been trained in the most brutal DECEPTICON attack strategies for the unlikely event he is discovered.
BUMBLEBEE charges into battle, engine roaring, and ready to turn DECEPTICONS into scrap. His dogged bravery is idolized by the AUTOBOTS and feared by his enemies!
LEADFOOT and his cohorts drive fast, have a thing for loud weapons and maintain a strong dislike for DECEPTICONS. But LEADFOOT is not all flash and show; while on CYBERTRON he was called a genius weapon designer!
Together with SCORPONOK, this massive DECEPTION destroyer seeks out his leaderís enemies and annihilates them. BLACKOUT leaves no witnesses to his passing, preferring to destroy everything around him rather than leave anything behind that might benefit the enemy.†
≠≠
≠
≠