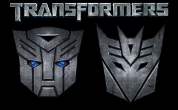 HasbroToyShop
has listed a new†
Play-Doh Transformers Dark of the Moon Autobot Workshop
.
The details are below
Molds to create robot-mode and alt-mode models of


Optimus Prime
Bumblebee
Ironhide
Starscream

4 cans of Play-Doh
Workshop part to "transform" the models
You can create models of the alt-modes, roll them into the workshop and then turn them into the robot-modes. The price is stated to be USD 14.99.