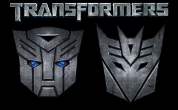 Artist Direct have posted a review of the Transformers: Dark of the MoonSoundtrack which goes on sale today which they give 4.5 / 5.

"Traditionally, the soundtrack to a Transformers film proves just as explosive and entrancing as the movie itself.

The soundtrack for Transformers: Dark of the Moon proudly upholds that tradition—like any robust Autobot—but it's also the best in the series so far. Each and every song displays an evolutionary heaviness that would be right at home on Optimus Prime's personal playlist....
Bringing together the biggest and best names in rock and metal, the soundtrack is just as much of an event as the film itself. Take a trip to Dark of the Moon with it blaring now…"