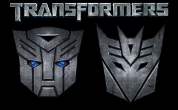 In a strange turn of events, which will no doubt turn out not to be true, Michael Bay's message board administrator Nelson posted the following comment on on ShootForTheEdit.com when asked about who the red robot in Transformers: Dark of the Moon was following on from a post by him that it was not Mirage. I have embolden Nelson's posts below to help distinguish them from the questions that prompted the answers.

"All I will say is that he speaks with an Italian accent and is named after a famous Italian."
This was followed by the posts
"That doesn't mean s**t. In the comic and novels the twins are still in it." in response to a post by Jason Gould where Jason posted "Come on guys it's Mirage, his name is already in the toys, books, and Novelization.".  Nelson then went on to quote Plague1980 wh posted "Are we talking about two different red robots here? In the children's books besides Sentinel, the only other red Autobot is the Ferrari which we all know is Mirage. Now if you are talking about another bot that we dont know about and trying to hint at it, the first famous Italian name that comes to mind is "COSIMO" as in Cosmos lol" following up with the response "Don't act dumb. You know I'm talking about the red Ferrari."

This mean that Paramount must have had to hired a new voice actor to record all of Mirage's lines and also have re-recorded any dialogue that names the character, though going by the first two movies this is also feasible.  It must have happened fairly recently as not only does the novelisation of the film refers to the character as Mirage but so does the toys and the prequel video game by Activision in which he speaks with an Arabian-based accent.  All of the other characters within the video game are voiced by the same voice actors as the Dark of the Moon movie.
We will keep you up-to-date on this story as it develops
Update:
When we posed the following over on ShootForTheEdit "This is very interesting . I know you won't want to give out the new name for the character but I was wondering when this change took place.", Nelson simply replied with "In the movie script, he was never called Mirage to begin with.".
I have since replied to clarify my question and I will let you all know if Nelson replies to that.
Update 2:
Nevermore complied a great lists of quotes that Nelson posted on TFW2005.com over on the ShootForTheEdit thread linked to that the start of this article that go some way to explain what went down with the character.
"Think about it.Mattel owns the toy merchandising rights to Ferrari. Why would Ferrari allow one of their flagship car to be named after a Hasbro property name (Mirage) in one of the biggest movies this year––thus undermining Mattel and possibly creating a huge clusterhug? And before you say "Well the toy is not named Mirage," look again, that's no Ferrari.

BTW, I've been known in extremely rare cases to be wrong."
"In all the treatments and scripts all the way up to the post production of the DOTM movie, the Ferrari was never referred to as Mirage. He was referred to by other names such as Rush & Enzo, but never as Mirage.Capisce?"
"
The point is the Ferrari in the film can't be named after any Hasbro TF name. Period.

1.- Because the movie is not a Hasbro property per se.
2.- The terms of use stated that Ferrari was going to have approval of name, voice, etc."
So, as Nevermore himself put it over on ShootForTheEdit, Dark of the Moon is "a movie based on Hasbro's Transformers property includes a character as a Transformer who must not be named after one of Hasbro's Transformers characters. I guess that shows how little say Hasbro has in these movies."
Sources of the quotes:

http://www.tfw2005.com/boards/transformers...tml#post6103423
http://www.tfw2005.com/boards/transformers...tml#post6103518
http://www.tfw2005.com/boards/transformers...tml#post6103534
http://www.tfw2005.com/boards/transformers...tml#post6103650