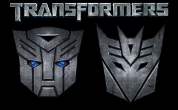 Entertainment Weekly
has revealed the official toy images of
Transformers: Dark of the Moon
Leader Class
Sentinel Prime
. Rosenbauer Firetruck Vehicle Mode is now confirmed. And the Announcement Trailer bot IS Sentinel Prime.
"...Dark of the Moon that smashed hulk that serves as Sentinel Prime's living tomb is the updated version of The Ark."
We also have a good look at a previously unseen toy :
The Ark
(a playset).
And the Official
Voyager Class Megatron
image is also revealed via the same article. Speaking of Megatron... Read a spoiler from the article after the jump.
"Bay said Megatron would start the movie in Heart of Darkness mode, hiding in the jungles of Africa, nursing his wounds, and vainly hiding his pulverized visage while plotting — what else — revenge."