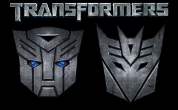 We won't give anything away, as that would be unfair for 99.9% of you that haven't see Transformers Dark of the Moon yet, as it's not released for another day, but what we will say is that you must go and see it.
The reaction to the film, by fans in attendance, and by general film distributors was good.  A much better reaction then to Transformers Revenge of the Fallen, and Michael Bay will appreciate one "focus moment" (those who went to the BotCon Hall of Fame would have seen this) with Bumblebee and Spike resulted in a rapturous round of applause.
Dave's Opinion
I'll summarise, better than the second Transformers Movie, and the most story driven, this film feels more like the first (just without the spine tingling sensation of seeing Prime transform for the first time).  The movie is slow .. very very slow .. to the point I worried that I was going to leave thinking ... That was a Transformers movie I never want to have to sit through again ... but things to improve.  If you can last the 90 minutes of slowness, you have an hour or so of action (though even that was dragged out for the start in my opinion), some of which makes up for the previous slowness.  There is nothing that will make your jaw drop in this film in terms of technical achievements, but it is the most rounded of the three Transformers Movies, and I did come out having enjoyed it and having a buzz.

Humans die (which is a good touch), robots die (some in glorious detail, others in not so glorious detail).  Leonard Nimoy as Sentinel Prime was a great casting choice.
The generic Decepticons are still too similar, but there is an awesome moment with Sideswipe, Ironhide and three Decepticons.  A great battle and nice to see different robots from similar vehicles.
The new Transformers characters aren't featured that much, other than Sentinel Prime.  Laserbeak and Soundwave have key roles, the others were just there.  I also can't remember Ratchet speaking in the movie.
Friends have given Transformers Dark of the Moon 8/10 .. which is probably a fair rating.  As slow paced as it is, with lots of scenes that didn't need to be there (and big jumps in time .. for reasons we can only think of as budgetary), it could have been better, but it could have been a whole lot worse.
A fitting end to the Michael Bay Transformers Live Action Movie Trilogy.
Oh .. best 3D since Avatar ... personally I didn't really notice any.  If you get the choice see it in 2D to save you money, the 3D isn't worth the extra £4 to £6 that cinema's charge.

Oh, Shockwave is not the drill creature, that is his pet.  Megatron as a hobo is as a fantastic look.
Steve's thoughts
I didn't think the films pace was as slow as the people I saw with it.  Like all the films it ended better than it began but all in all I preferred it massively over Transformers: Revenge of the Fallen.  The voice cast was pretty much as has been rumoured / released and personally I thought that Frank Welkers' Soundwave was an improvement on the last film, though it could just be after having no voice in Transformers Prime I was glad to hear him talk.  Frank did a good job with Shockwave though I he needed more screen time and lines IMO.  Nimoy was a stand-out again, and had much more character in his performance than most of the other Transformers.  Dino is Dino, Q is Q, there are no twins.  The new characters once again lack screen time which is a shame, but this time around ILM do not re-use as many renders as ROTF which is a good thing.  Rosie's acting was not as painful as I expected, but it wasn't good.  Unlike my brother I thought the 3D was good, very good in fact.  It was subtle enough most of the time that it was not in your face, but you could actually look around the screen and things kept in focus unlike many 3D films.  Personally I am looking forward to watching it at the iMax as I do believe that some of the set-pieces will look amazing in that format.  The film is far from without flaws, time jumps around a couple of times and the celebrations at the end seemed premature to me as I was left with a "well hold on, what about ...." thought in my head as much like the previous films the "clean up" was brushed over.
There is Bay humour in this film, though no where near as much as the 2nd, which is a good thing IMO, though there are still some face-palm moments where things are painful rather than funny.  I suppose overall the film was what I was expecting from the third movie after coming out of the 2nd.  Visually the film looks and sounds stunning, I would suggest seeing it in 3D if you can see it at the iMax OR have a decent theatre near you.  If you have a cheap cinema as we do where the quality of the projectors and screens are low, don't bother, and consider going somewhere else.
If the first film was 8/10 (mainly because of the feeling you got from it), then the 2nd film was a 5/10 with this being a 7/10 for me.
Oh if you plan on staying through the credits, there is one scene with Simmon's early on and then that is it.  The only thing to note towards the end of the credits is the notice about Paramount not receiving money for promotion of tobacco.