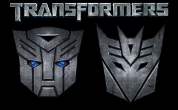 Glen Moreshower has been quoted talking about nto only Transformers 4 but also Transformers 5. This follows on Michael Bays' comments about handing over the reigns after Transformers 4, using that to set up a new story arc.
Last weekend at the Con X KC in Kansas City, Missouri, actor Glenn Morshower, who has appeared in all three films so far, talked about the continuation of the series. According to Morshower, who provides an introduction to the brand new "Transformers 3D" ride at Universal Studions, Bay and producer Steven Spielberg are not only working on 'Transformers 4', but more than likely 'Transformers 5' as well.
"After I did the opening ceremonies for the ride, Steven Spielberg walked up to me and chatted and said 'You know we've got you set to do the fourth one and probably the fifth one on the heels of that," said on how he was approached about the new sequels. "So, I guess in December we are on our way to making 4 and 5."
Source: Examiner.com