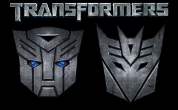 FullMetalHero.com are reporting that three Transformers Dark of the Moon Soundwave figures will be released including a Human Alliance version with Laserbeak.  The listings, that have come direct from TakaraTomy to KapowToys who run FMH.

1) DD13 SOUNDWAVE & LASERBEAK - Human Alliance - October
2) DD14 SOUNDWAVE (Mercedes) - Deluxe
3) CV25 SOUNDWAVE (Mercedes) - Cyberverse Legion
In another solicitation from TomyTakara, FullMetalHero confirm that the Japanese release of DA-30 Human Alliance Leadfoot and Steeljaw, out October 1st 2011, will NOT have the Target Logo which is on the US versions and is a Target exclusive.  This difference in paint apps means that the toys may see a release within the UK outside of Tesco's who often stock Target exclusive figures.  The solicitation listed the figure as DA30 Sponsored Vehicle #3 W/Animal (Clean).