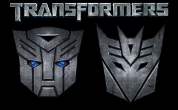 This news article is a quick round-up of recent Transformers Movie 4 news which we had not reported due to being at Auto Assembly.
On Monday reports surfaced that Sideswipe could be returning to the live action Transformers franchise when a photograph was taken near to the set. This news was always unlikely since the official Autobot cast is stated as being fixed to the vehicles which have already been officially revealed. The latest update on this is that it was a privately owned vehicle in the area.
On Tuesday it was reported that Victoria Summer (Saving Mr. Banks) tweeted that she would be joining the TF cast for a three week shoot. On the same day Mark Wahlberg, who is busy promoting 2 Guns, discussed Transformers 4 with Digital Spy and is quoting as saying "...its just very different. Its a standalone movie. Budget wise its the biggest of all of them."
Yesterday it was reported that a shoot was taking place at the Russell Bazaar location in Detroit where a helicopter mounted with a camera, the Rally Fighter vehicle, Sonic RS Rally Car and two Cadillac Escalades where all spotted.
Today footage has been published on Vimeo from yesterday's shoot which can be viewed below.
Harper explosion from Technolutionist on Vimeo.