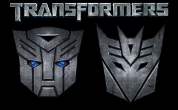 You will no doubt notice some Transformers and non-Transformers websites reporting that they have a copy of the Transformers 4 script. This script if fake. We received a report of this script on the 11th December at 9:31am and decided not to publish since it is clearly not true. However since the news story is starting to do the rounds we wanted to posted the "report" we received to help highlight the background of the document
Below is the news submission we received. Again the script is fake, it does not fit with what is known regarding the fourth live action Transformers film and contains references to characters which will be too costly to put onto the big screen and not enough Human focus:
"A friend of mine is in the document disposal business, he works for a company similar to this:

http://www.ironmountain.com/Services/Secure-Shredding.aspx

The actual company I will not disclose since doing so could easily cost him his job, based on what follows...
The other day he was going about his business, when he came upon the document that is linked below. Needless to say he was torn given the implications, but took a risk and saved it from destruction. He passed it along to me to let me weigh in on it, and I do believe this is worthy. What is has going for it:

It pretty much meshes with everything that has been revealed so far, and promises to be an epic story.

What it doesn't have going for it:

It was in a disposal bin awaiting destruction.

So it could be one of two things, an early draft, which is being revised, or there were one to many copies floating around so they decided to elminate the excess. Either way I think it's significant since it lets us know what they are thinking...

These links will likely expire quickly, that's why I have provided two different sites.

https://www.box.com/s/2fs8feyct9pes49aemvd

and

http://www.sendspace.com/file/5taj5e

Merry Christmas
Darth Chaleo

P.S. I did some checking, and since it was considered refuse, there shouldn't any issue with posting it. But the main thing is you don't actually poesses it, nor did you upload it, but I've covered my tracks just in case."