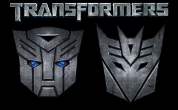 Michael Bay has announced that Han Geng has joined the cast of Transformers 4:
He's one of Asia's top stars in the worlds of music, television and movies and has become one of the most influential entertainers in China. Now he'll also be known for Transformers 4. Welcome Han Geng to the cast of Transformers 4. – Michael
Posts Mr Bay as the casting is announced. Hang Geng is one of China's leading pop-idols and is also extremely popular in South Korea where he started his career as part of the group Super Junior.