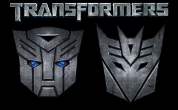 We tweeted this out last night but thanks to the Weibo user @HarryHuo the world has now gotten to see the designs for the Dinobots in Transformers 4: Age of Extinction. We have taken the packaging mock-up image and have extract and enlarged the various images to give you a better look at the designs.
These are not your G1 Dinobots as the appear to be a T-Rex, a Raptor (or a modified Deinonychus depending on the scale), a Pteranodon, a Spinosaurus and a Triceratops with the tail of a Stegosaurus.
You can view the images below.